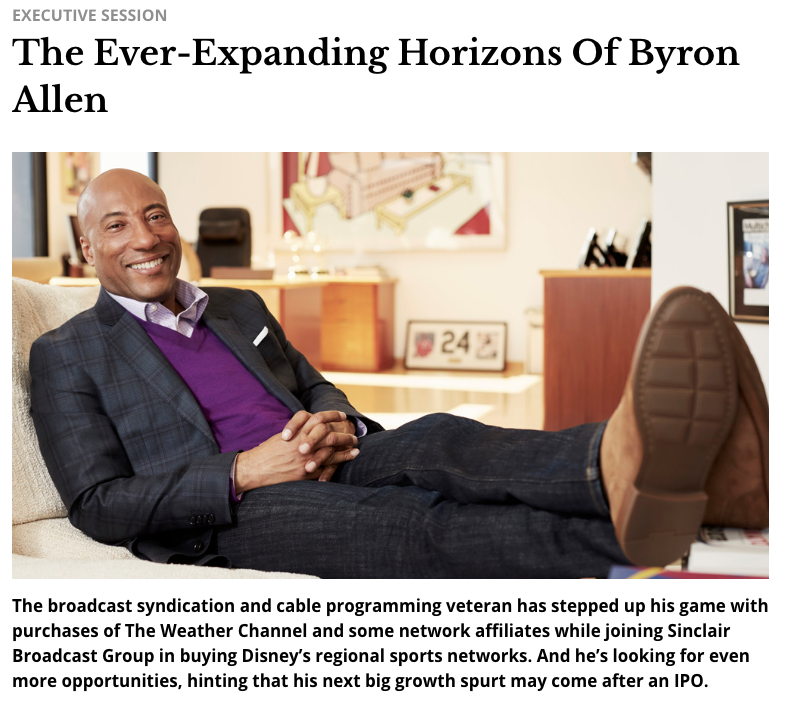 07 Aug

The Ever-Expanding Horizons Of Byron Allen

By Harry A. Jessell

Byron Allen is a Hollywood guy. He leveraged early exposure to show biz as a joke writer and joke teller (he did Carson in 1979 when he was just 18) into hosting shows and eventually making them for broadcast syndication (he now has 43 of them) and a stable of eight cable channels with generic brands like cars.tv and pets.tv.

Entertainment Studios, the company he founded in 1993 and heads as CEO, even has a film distribution arm now and you can't get more Hollywood than that. (Its latest, 47 Meters Down: Uncaged, opens Aug. 16).

But last year, he stepped into a broader media world, buying The Weather Channel for $300 million. He followed that up this year with a modest first step into broadcasting with the purchase of Big Four network duopolies from DuJuan McCoy in Evansville, Ind. (WEVV-WEEV), and in Lafayette, La. (KADN-KLAF), for $165 million. He is also investing in the regional sports networks that Sinclair in buying from Disney, positioning EA to become a major supplier of programming to the networks.

In this interview with TVNewsCheck Editor Harry A. Jessell, Allen says he is in the hunt for more TV stations and more cable networks, seeing the value of owning both production and distribution just as his business hero Rupert Murdoch did. He also hints that his next big growth spurt may come after an IPO.

An edited transcript:

You just closed on DuJuan McCoy's two stations, paying a lot more for them than he did just a few years ago ($60 million). Why would you, at this point in your corporate history, want to own TV stations, particularly TV stations in small markets?

We think it is a terrific business, broadcast television stations, especially Big Four network affiliates, the ABC, NBC, CBS, Fox affiliates. We think there is plenty of growth there and we believe that this was a great start with these markets and we are looking to buy quite a few more affiliates and to buy them in bigger markets.

You know, network affiliates are increasingly hard to find in these days of consolidation and you will be competing with established groups and other newcomers with deep pockets like Apollo and Soo Kim.

When I started the company 26 years ago distributing my very first television show, I didn't have a shortage of competition then. So, competition is not my concern. It is really what is the opportunity — and we believe that owning Big Four affiliates and combining them with the resources of the Weather Channel and our expertise in syndication is a big opportunity.

So, you have strategic advantages that others do not.

The Weather Channel can help enhance weather coverage for any and every television station in America and provide local communities even more in-depth weather coverage. Weather coverage is extremely important because it protects lives and families and homes and businesses.

The Weather Channel is the best-in-class 24-hour weather news network with no close second and using that infrastructure and those scientists and that intellectual capital would help any newsroom in America in terms of providing more in-depth weather news coverage.

So we have that and we have our programming content so we can help offset programming costs, bring greater efficiency to the stations and invest more in their news operation. Our goal is always to be No. 1 in news and to provide an excellent service to the community.

I get the synergies, but broadcasting really depends on retransmission consent, which is under constant attack by the MVPDs. Does that give you pause?

There is a course correction that is going on and that course correction is to pay the group that is delivering the most in the way of viewership. What we know is the broadcasters represent 31% of the viewership approximately, but we represent about 16% or 18% of the payout by MVPDs. So, there is a disparity.

I am not concerned about the retransmission numbers. There is a value add there. The cable operators don't pay the money because they just feel like paying it. They pay it because they know that the viewership is tied to those Big Four affiliates because billions and billions of dollars has been invested in content and news and infrastructure.

On the other side of the equation you have the networks. Whatever retransmission money you get, they want to take most of it back in reverse comp.

Well, welcome to the world of business. It is a contact sport and everybody has their position.

Tell me about your involvement in Sinclair's purchase of the Fox RSNs. According to the press release, you are going to be an "equity and content partner." What exactly does that mean? How much money do you have in the game here?       

Well, that one I did privately, not out of my company because I never want to invest other people's money in anything that I don't control 100%. So in that one, Sinclair is driving the ship. So, if they are driving the ship, I said, look I will just do it personal and so I have a small piece.

It is insignificant in terms of the total scale of it, that $10.6 billion. So, I will work with them in helping to provide programming. There is a lot that can be done with those regional sports networks.

Do you see those channels as a platform for more than sports programming, from general entertainment?

No, I think more sports. There is nothing wrong with sports. It is one of the greatest and biggest businesses that we have in the content business and I think you stay focused and enhance sports.

Sports in not something you have been deeply involved in.

Well, we have done a little bit. We have a show called the American Athlete. The American Athlete is something that has been on for probably close to 20 years or more. We own something called Sports.tv. Sports.tv is a streaming service that we will be rolling out probably next year. So, we are not as new to sports as people think.

What guarantees do you have that the RSN's will become the outlet for your programming that you think it will?

Well, we have a strong relationship with Sinclair, a very strong relationship that goes back 25 years to when Executive Chairman Dave Smith only had a station in Baltimore and Pittsburgh. I am one of the largest providers of content to Sinclair. So we have a great relationship and we thought this is a great opportunity where we could work together.

You said you are putting your own money into RSNs rather than the company's. So, who is the other money in Entertainment Studios?

No one.

No one? So why did you say you didn't want to put Entertainment Studios money into the RSN deal?

You never know. You might go public.

You might go public. Is that a scoop?

No, it is not a scoop.  I am just saying you leave your options open.

When I saw you out at NATPE, you gave me a demo of Local Now which is an automated local news and information streaming service built on an OTT platform that you acquired with the Weather Channel. What is the latest with that?

It is doing great. Local Now is very special. You know there are a lot of streaming services out there, but this is the one and only streaming service that has cracked the code to deliver local news, weather, sports, traffic in real-time geo-sensed down to your ZIP code. We have recently celebrated over one billion viewed minutes and it is doing phenomenally well for something that we have not started to promote.

We are in the process of adding movies, music and comedy concerts, documentaries and TV shows to the platform. We believe it is going to be a very strong premium AVOD service.

So, it is more than just local news and information.

That is right.

Was that the plan six months ago in Miami Beach?

It has been the plan for a while, but maybe we weren't talking about it so much six months ago.  What we are looking for Local Now to do is basically have the same relationship with viewers as your local television station does.

You get your local news, weather, sports and traffic, but at a certain point you also get premium content. And so the relationship you have with your local TV station in a linear way is the relationship we hope that you will have with Local Now in a nonlinear way. So, you go to Local Now which you can download in less than 30 seconds and it is free. If you want local news, weather, sports and traffic, it is there. If you want premium content, it is there.

I want to talk a little bit more about the Weather Channel. Basic cable is facing a loss of subscribers and the MVPDs are trying to reduce the fees they pay to the channels. What is the upside for the Weather Channel seen only as a basic cable network?

Before we bought, we saw upside and we have been able to capture it. Our distribution has gone up, one of the few that can say that. The Weather Channel was off of Verizon Fios for a little over four years. We were able to successfully get back those three and a half to four million subs.

The Weather Channel, which has been voted for eight consecutive years as the most trusted news brand in America, is also making a nice migration to OTT. So, where you might be losing some subs on the linear side, you are picking them up on OTT. For us, business has been phenomenal at the Weather Channel in terms of increasing distribution and adding OTT platforms. I believe we are well positioned.

We have also announced that we are doing the Weather Channel en Español. So we are going to launch that in next year.  This will be the first and only 24-hour Weather Channel in Spanish.

Do you see growth in the affiliate fees for the channel as broadcasters do for retrans fees?

Time will tell and the economy will tell, but I will say this: The brands that will do well are the ones that are best in class, and we are best in class. The Weather Channel is more valuable today than it was a year ago, or five years ago because we are living through a period of climate change and the weather has become more and more severe.

We have had 417 consecutive months of record-breaking temperatures, everything is extreme as it relates to weather and weather has become bigger and bigger news every day, much bigger news than it was 20 years ago or ten years ago or even five years ago.

And when you have extreme weather conditions, people don't turn to their local station to get that information. They don't turn to the traditional news networks to get that information, that life-saving information. They turn to the Weather Channel. The Pentagon once told us there is no scenario in which the Weather Channel is not on in the Pentagon.

You have launched eight small cable networks. You told Variety last January that you would like to have 30. Isn't that pressing it, given the glut of channels out there today?

Well there are a lot of people trying to sell.

Oh, you are talking about doing this by acquisition?

Yeah, you don't have to start them all.

Let's talk a little bit about the syndication. The show of yours that I keep bumping into is Funny You Should Ask, but you have a bunch of them. You have always operated on the fringes of this business. What is it going to take to crack prime access or daytime on Big Four affiliates?

Well, maybe by buying them. When you buy them, it is easy to program them.

That's true, but there is also the imperative to put the absolutely best program you can get on too so that you have some ratings points to sell, isn't there?

Funny You Should Ask is the very best you can get. So Funny You Should Ask is going to be on the ABC affiliate in Baltimore, I believe in prime access, and KCBS Los Angeles is going to put it on for a full hour at two o'clock. So we are starting to crack the code in the Big Four affiliates with this comedy game show. We have a lot of faith in Funny You Should Ask and we are seeing success with the show and we are seeing upgrades as we are going into our year three and we think it takes five to 10 years to build out a real comedy franchise.

The one thing the affiliates really have a deficit of is comedy. When they do put comedy on, they tend to do well. So when you look at The View and the comedians are doing their thing, the show does nicely. Or, you look at Ellen DeGeneres or you look at Steve Harvey injecting his unbelievable brand of humor into Family Feud. These shows really pop.

You are among the few black persons who own TV stations.

You can count them on one hand.

Well, I think you can count them on half a hand. What should be done about that?

It is really sad how little minority ownership there is and quite frankly it is embarrassing. There is an opportunity for the FCC and the DOJ to grow diversity in that ownership. I believe the FCC Chairman Ajit Pai is sincere in his desire to help. Hopefully, one of the things that he and the DOJ will consider is to bring back the minority tax certificate to incentivize folks to sell their TV stations to minorities by giving them a tax break. That is one way of taking it from three or four people on one hand to more.

What about ownership limits? Would you like to see Pai change those?

I don't think we should increase the national cap. If we do, we will not have diversity in ownership and if you don't have diversity in ownership, then you don't really have a true democracy. If you increase the station cap it is going to be three or four owners of all the stations in America or most of the stations in America and I think it is better if we spread that ownership out.  We don't need to increase the cap.

What's next for Byron Allen?

I love what I do and will keep doing more of it. We will buy more television stations. We will grow our networks. We will grow our streaming services. We will provide even more value to advertisers. We will give the MVPDs the opportunity to bring down their programming costs with our portfolio of cable networks.